By: suffescomseo
July 22, 2022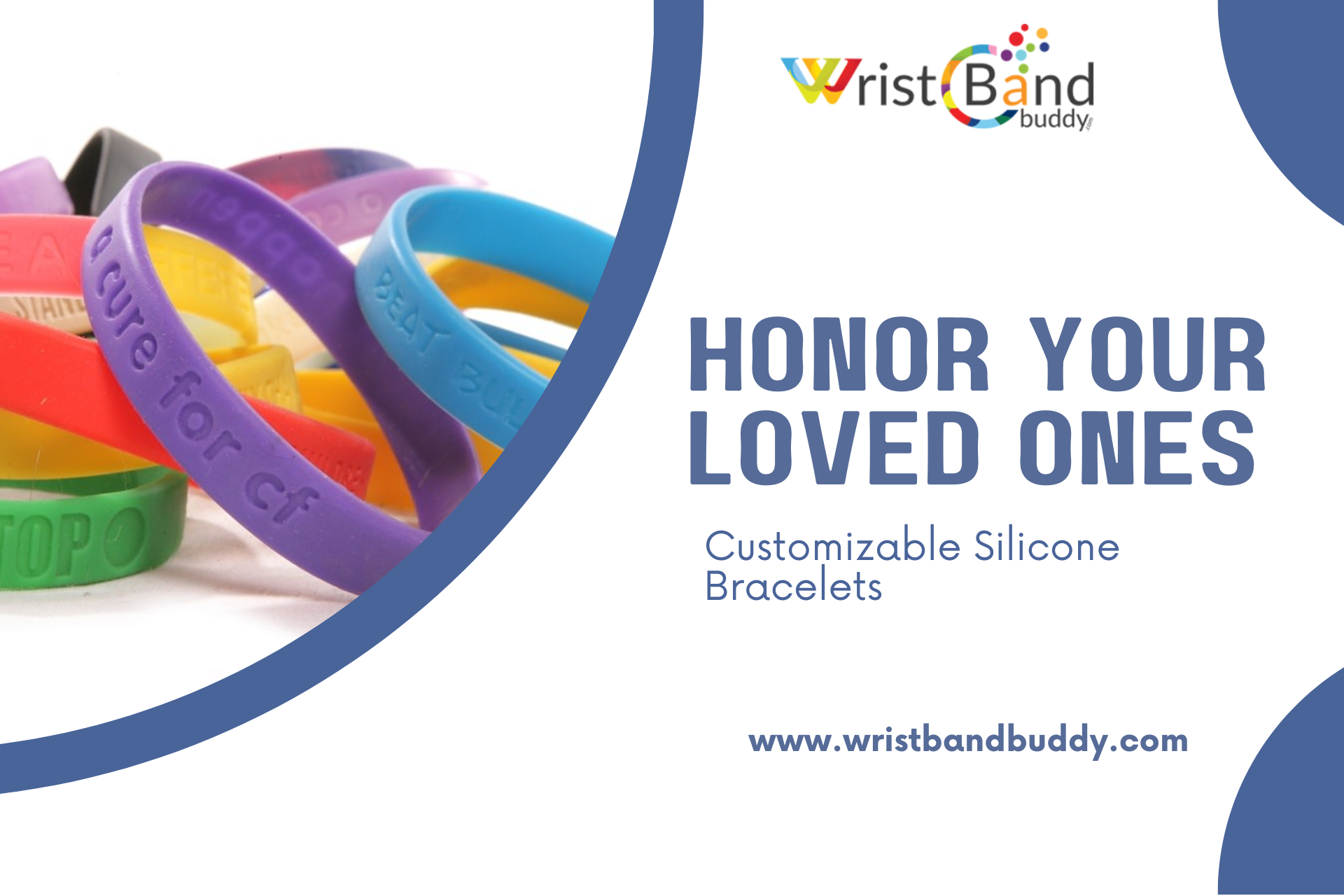 Making personalized silicone wristbands in remembrance of a lost loved one is a straightforward yet one-of-a-kind method to have a constant reminder of someone who will forever be held dear to your heart. You may celebrate the life of a loved one while also helping others to remember them with our wristbands that say "In Memory Of."
When we look at the memories we cherish of people who came before us, we often find things that help us remember them. These are the things that we use to remember them. We can leverage such mental reminders to produce a lasting reminder using reminder bracelets, which will survive for many years to come and continue to look fantastic during that time. When making personalized in memory of bracelets, you have infinite alternatives open to you.
You can select from several different wristbands on our page titled "Start Designing," such as thin bands measuring 14 inches, normal bands measuring 12 inches, wide bands measuring 34 inches, and extra-wide bands measuring 1 inch. After that, you will choose the Message Style that best suits your needs, such as Screen-Print, Debossed, Embossed Wristbands, or Ink-Filled. Among our color style options, you may choose from solid, segmented, swirled, or glow-in-the-dark bands.
How Can You Remember Your Loved Ones?
Numerous different activities may be done in remembrance of a deceased loved one. You can wear a band with a name of a loved one. Or you can design his favorite sign on the wristband. You may put anything in your pocket that symbolizes your parents' interests, such as:
A flower that reminds you of your mother

Or An airplane that reminds you of your father.

You might want to consider purchasing a wristband with the name of a loved one etched onto it.
It is up to you to decide what kind of souvenir to use to honor your departed loved one. After your mother's passing, there is no set amount of time during which you should continue to wear the breast cancer awareness bracelet. Additionally, there is no temporal limit on the experience of loss.
It's possible that wearing a memorial bracelet for the first time may make you feel sorrowful. Because you will be constantly reminded of why you are wearing the bracelet, you could find that you end up crying every time you see it. However, when some time has passed, you can start to think about your bracelet like you do your wedding ring or watch. Something will inevitably bring your attention back to the bracelet at random intervals. It will make you stop and think about things in the past.
How to Make the Most of Your In Memory Wristbands?
There are numerous methods by which one might custom silicone bands. That has been imprinted with a memorial tribute to a deceased loved one.
Decide on a straightforward phrase, such as "Always Remembered," and include the deceased person's name, birth date, and the date they died away in it.

Select an uplifting statement that was significant to the individual. This includes Life Each Day to the Fullest or even something hilarious the individual was renowned for saying.

Include a message with a religious connotation, such as "In God's Hands" or a quote from the Bible.

Make the wristband with the individual's preferred color (or colors), if possible. There is a choice between a segmented and a swirling color pattern.

Either submit your piece of artwork or select from a choice of different parts of the artwork. Select those which symbolize something significant to the individual.

For a one-of-a-kind finish on your memorial wristbands. You must try using bands that are either exceptionally broad (one inch) or thin (quarter inch).
Category