By: suffescomseo
March 13, 2023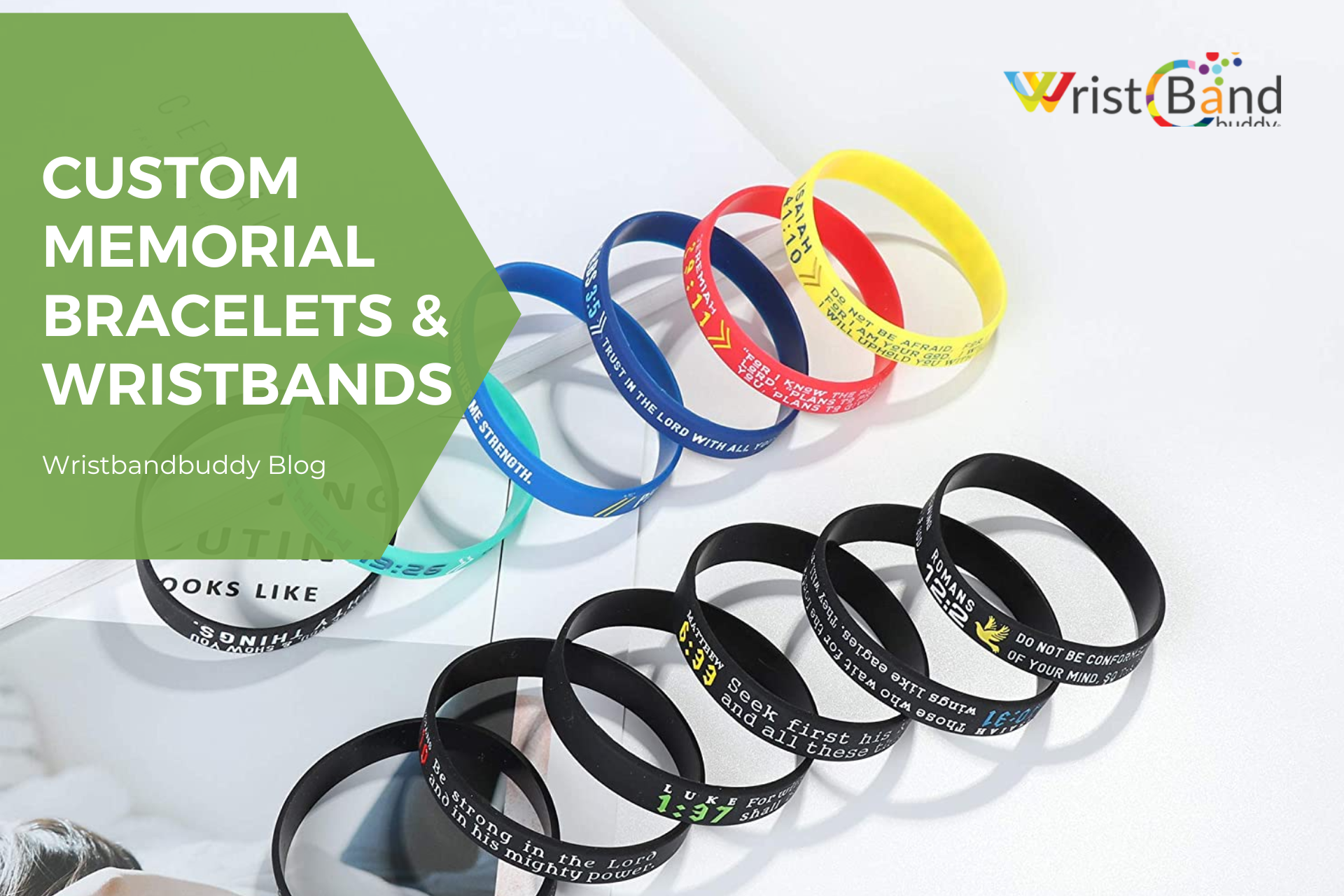 Losing a loved one is never easy. And the grieving process is always a long and painful journey. The memories of our loved ones are precious, and keeping them close to our hearts is essential. The memory of wristbands provides a way to do just that. These wristbands are a tangible reminder of our loved ones who have passed on and offer a way to honor and cherish their memory.
What Are In Memory Of Wristbands?
In Memory Of Wristbands are silicone bracelets you can wear to honor the memory of a loved one. They come in a slew of colors and styles. You can personalize them with the name and dates of the person no longer with you. Moreover, these wristbands are indeed a way to keep your loved one close to your heart and share their memory with others.
The Importance Of Wearing An In-Memory Of Wristband
Wearing an In Memory Of Wristband can be a helpful tool for the grieving process. It provides a physical reminder of your loved one. Besides, it can be a source of comfort during difficult times. Wearing the wristband can also serve as a way to open up a conversation about your loved one with others, which can be therapeutic.
Customizing Your In Memory Of Wristband
One of the great things about In Memory Of Wristbands is that you can customize it to fit your needs. You can choose the color and style that best represents your loved one and include their name and dates on the wristband. Additionally, you can add a personalized message or a symbol that has special meaning to you and your loved one.
Also Read: In loving Memory Bracelets – Buy the Best Ones!
How to Get an In Memory Of Wristband
You can purchase In Memory Of Wristbands direct through our website. We cater to all types of customization options. Also, you can reach us via phone or visit in-store. This will help our experts guide you to find the one that best fits your needs.
Wrap Up!
It can provide comfort and solace during difficult times and remind you of the love and memories you shared. So if you are looking for a way to keep your loved one close to your heart, consider getting an In Memory Of Wristband today.
Frequently Asked Questions
How do I customize an 'in memory of' bracelet?
You can customize loving memory bracelets through various means. Wrist Band Buddy offers customization options where you can choose the color, size, and message to be engraved on the bracelet. There are also DIY options to purchase the materials and personalize the bracelet yourself. You can do so either by engraving the message or using beads and other decorative elements.
Can in memory of bracelets be worn for other purposes besides honoring the deceased?
Yes, in memory bracelets can also be worn to honor a special event, achievement, or cause. For example, a cancer survivor may wear an in-memory bracelet to commemorate their victory over the disease. Similarly, a charity organization may distribute in memory of bracelets to supporters as a way to raise awareness and funds for a cause.
What is the significance of wearing an in-memory of bracelet?
Wearing an in-memory bracelet is a way to keep the memory of a loved one alive and close to you. It can also serve as a source of comfort and support during the grieving process. Additionally, it can be a way to raise awareness and honor the legacy of the deceased by sharing their story and their impact on others.
Where can I purchase in memory of bracelets?
In memory of bracelets can be purchased from various retailers, including online stores, jewelry stores, and gift shops. Numerous websites specialize in creating custom memory of bracelets. But Wrist Band Buddy's services are exceptional. They cater to all your needs and offer all types of wristbands at factory-direct price points.
Category