By: suffescomseo
May 25, 2023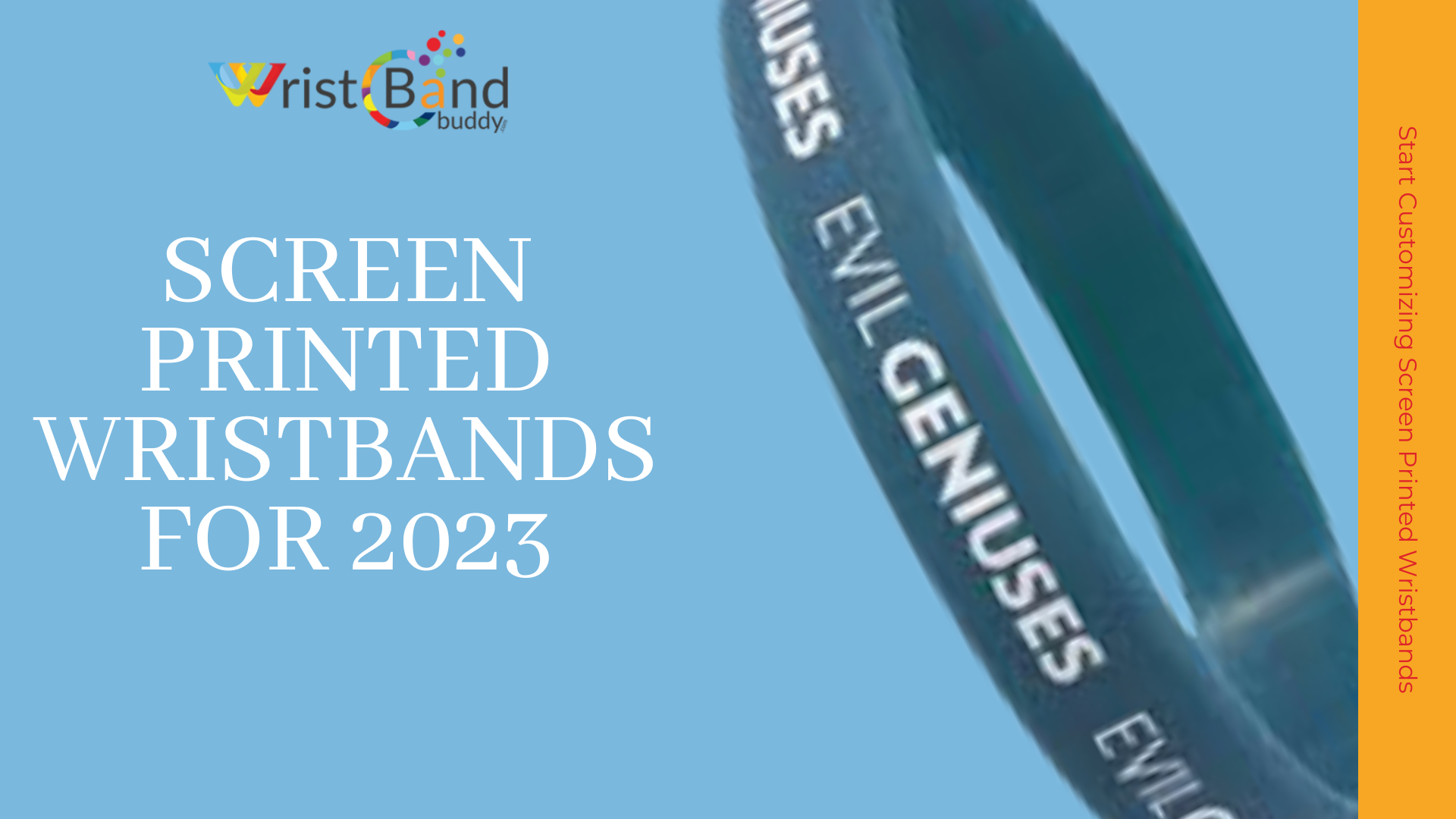 Screen-printed wristbands have been a popular promotional tool for many years. And they continue to evolve and change with the times. As we look ahead to 2023, several top trends in screen-printed wristbands exist. We can expect to see all of them in this blog. From new materials and colors to unique design features, here are some of the top trends in screen-printed wristbands for 2023.
Check Out The Top Trends
Sustainability
Sustainability is a growing concern for many people. You can clearly see this trend in the screen-printed wristband industry. More and more companies are looking for eco-friendly options for promotional products, and screen-printed wristbands are no exception. 
In 2023, we can expect to see an increase in the use of sustainable materials like bamboo and recycled plastics. These materials reduce waste and have a unique and attractive texture that can add to the overall look of the wristband.
Customization
Customization has always been a key feature of screen-printed wristbands. But in 2023, we can expect to see even more options for personalization. The possibilities for designing a wristband that truly represents your brand or cause are endless. 
Some companies even use QR codes on their wristbands to link to a website or social media page with more information or cause.
Bold Colours
While traditional screen-printed wristbands often featured simple, solid colors, in 2023, we can see more bold and vibrant hues. Bright oranges, deep blues, and neon greens are just a few of the colors you will see in the coming year. These bold colors can help your wristband stand out from the crowd and catch the attention of potential customers or supporters.
Innovative Design Features
Screen-printed wristbands are no longer limited to simple bands with text or logos. In 2023, there will be increasingly more innovative design features. They could be textured bands, embossed or debossed logos, and LED lights. These unique features make the wristband stand out and provide a tactile experience. It will further enhance the product's overall impact.
Digital Integration
As our world becomes increasingly digital, it's no surprise that screen-printed wristbands incorporate digital features. In 2023, we can expect more wristbands that link to digital platforms, such as social media or e-commerce sites. This makes it easier for customers to engage with your brand or cause. But it also provides valuable data about the effectiveness of your promotional efforts.
Interactive Features
Interactive features are another trend that we will see in screen-printed wristbands in 2023. These features add a fun and interactive element to the wristband, from snap-on accessories to removable charms. Customers can customize their wristbands with these accessories, making the product more personal and engaging.
Smart Technology
Smart technology is a trend that you can incorporate into wristbands, and in 2023 there will be even more advancements in this area. Moreover, smart wristbands can track everything from steps and activity levels to heart rate and sleep patterns. This data can provide valuable insights into the health and wellness of the wearer. In addition, smart wristbands can also link to other digital platforms, such as health and fitness apps or social media sites.
Conclusion
Ultimately, screen-printed wristbands are versatile and effective promotional tools that are continually evolving.2023 will see many exciting trends, ranging from sustainability and customization to bold colors and innovative design features. These trends will help you create a wristband that stands out, innovatively engages customers and supporters, and represents your brand or cause.
It is a great way to advertise a non-profit organization, introduce a new product, or just create a buzz around your brand. You can design an attractive, functional wristband by staying on top of the latest trends and incorporating them into your design.
So, whether you're looking for sustainability or innovative design features, interactive features, or smart technology, your brand always has a screen-printed wristband option. These trends can help you achieve your promotional goals in 2023 and beyond.
You can always reach us if you want to customize your wristband for your business or cause.
Category