By: Robert Bell
April 20, 2020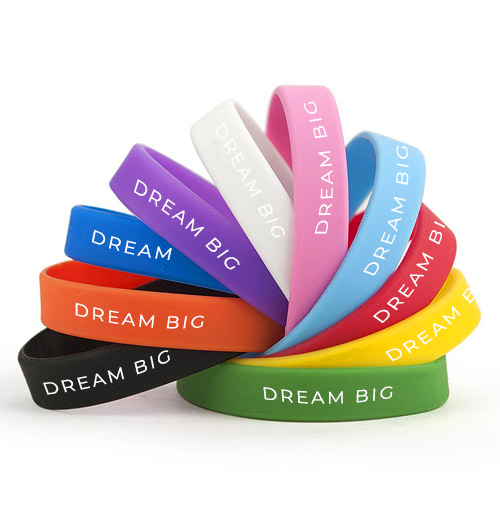 Commencing a business or a campaign is easy but promoting it is not an easy task. People adopt multiple methods to promote their business. Some advertise their business idea on social media and some write blogs to be printed in newspapers and other online sites. If you are running a campaign and working to spread awareness about a particular disease, you can use customized accessories to reach more people in a short time.
Customized silicone wristbands are one of the best ways to promote your idea and spread your message among crowds as they are durable, attractive and can be customized according to the client's requirements. These wristbands are available in various colors and styles where you can choose a strong message to imprint on the wristbands.
How we can create awareness with Wristbands
It is very easy to spread awareness if you have proper methods. You should have complete knowledge about your campaign so that when some people ask you about your business idea, you should be able to explain and convince them to donate for your cause.
E.g., if you are running a campaign for breast cancer, you can select a particular color and style of the wristband which you can distribute among your supporters. Moreover, you can select different sizes which can be worn by people of all ages. Convincing people to donate is one of the difficult things while running a campaign, but if your message is strong and you are working for a good cause, you will get donors without many efforts.
You can also create an online website where you can upload pictures after hosting an awareness event. This can also help your organization to encourage people to donate for your cause. Wristbands are an effective way to reach more people easily and you can use them as a brand of your organization.
Which is the best Embossed or Debossed
There are various types of wristbands that are available in the market. Embossed wristbands are those wristbands where the message is raised with a separate color of ink and in debossed wristbands, a laser method is used to engrave your message on the wristband. Both of them have their own unique style and you can choose either of them to spread your message.
The rubber bracelets are long-lasting and are available in different sizes. Some people who are running gyms and other wellness programs, order wristbands in bulk and include them in the kits which can be given to the new supporters of the campaign.
Where to order affordable custom wristbands
If you are running an awareness campaign for a specific cause or running a business, one of the best promotional methods would be customized wristbands. You can order wristbands from any online store available in the market but if you want to avail benefits along with the wristbands, you can directly place an order on wristbandbuddy.com and avail benefits if you are ordering in bulk.
In this particular site mentioned above, you can also customize the wristbands according to your campaign. There are various styles and colors available online which can also be delivered at your doorstep if you want.
Conclusion:
Customized silicone wristbands are not only used for campaigns, but it is also used to advertise about a business. This is the best method to spread awareness among the crowds when used properly. You should have complete knowledge of your campaign so that you can convince more people easily. Moreover, people working in a campaign should wear wristbands every time they are working or spreading awareness by going door to door.
Category