By: suffescomseo
February 10, 2023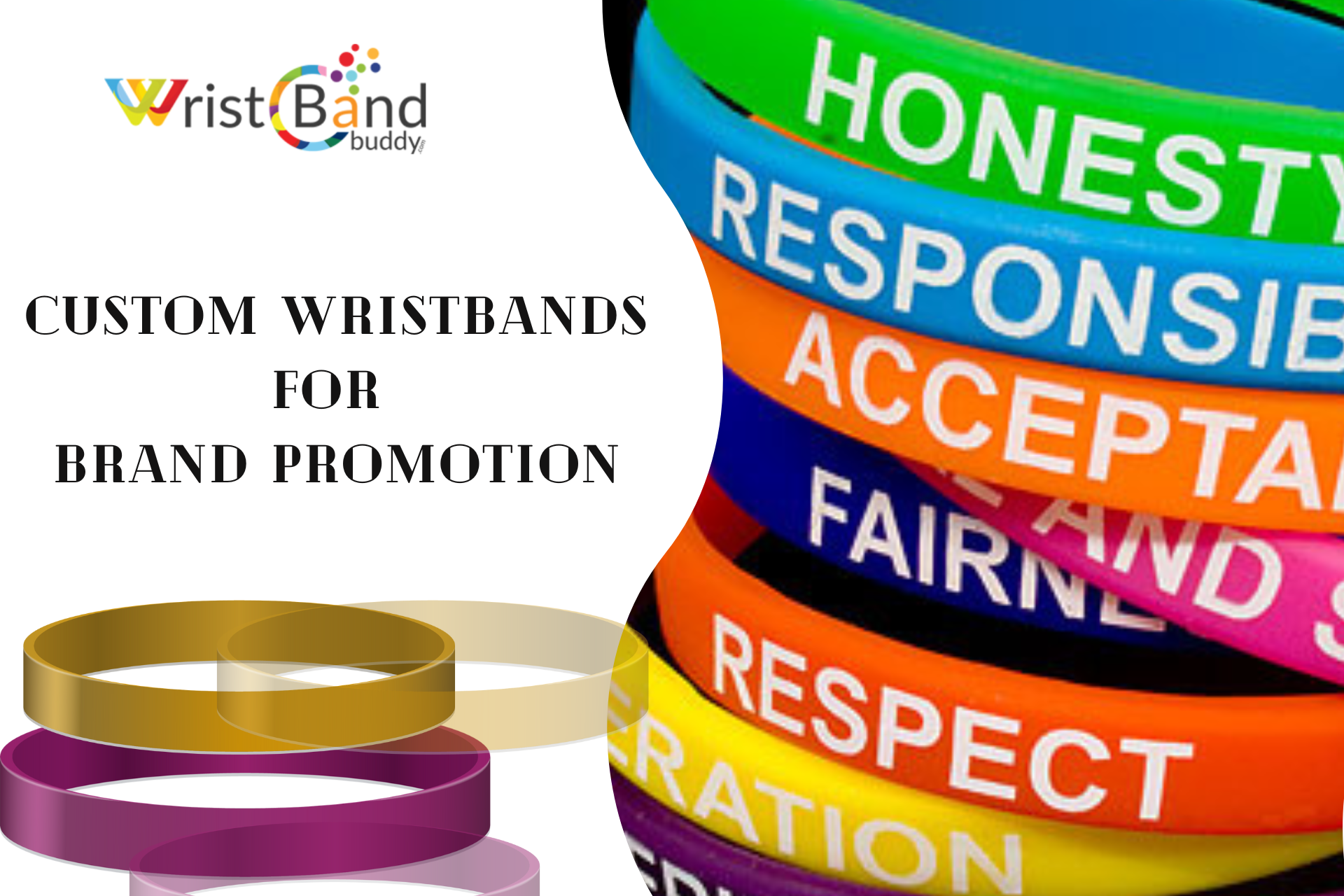 Wristbands have become a powerful tool for brand awareness and promotional activities in the market. It helps you spread the word about your important cause. You can also use your wristbands in pictures and share your story in the caption. This easy, organic marketing type can help push your campaign to the next level. Moreover, social media platforms like Facebook, Instagram, Twitter, and TikTok are the best places to do this.
This blog discusses everything you need to know about custom wristbands.
What Makes Custom Wristbands A Popular Promotional Tool?
Custom wristbands are a popular promotional tool. Many businesses, organizations, and individuals design their own wristband wristbands once in a while. All have the sole purpose of promoting their brand or message. Moreover, very durable silicone material goes into the making of custom wristbands. You can design your own wristband with logos, text, images, and other designs to make them stand out. 
Further, custom wristbands are an effective way to spread awareness about a cause or event while also serving as an affordable way to promote your brand. They are easy to distribute. Moreover, you can wear them for long periods. They won't wear out or fade away. These features make them ideal for both short-term promotions as well as long-term campaigns.
What are the Different Types of Custom Wristband Materials Available in the Market?
Custom wristbands are a great way to show off your style and make a statement. Whether you're looking for something fun and colorful or something more subtle and sophisticated, there's a wide range of materials available for custom wristbands. 
From silicone to fabric, each material has its own unique look and feel that can help you create the perfect wristband for any occasion.
There are several materials available in the market for custom wristbands, including:
Silicone
It is a popular wristband material due to its flexibility, durability, and resistance to heat and water. It is also hypoallergenic, making it ideal for those with sensitive skin.
Tyvek
Well, it is a synthetic material that is lightweight, tear-resistant, and water-resistant. We also call them event wristbands, as it is a cost-effective option.
Vinyl
Vinyl wristbands are durable and water-resistant, making them ideal for outdoor events. They come in a variety of colors and detailed designs.
Cloth
Cloth wristbands are made from a soft, flexible material. We often use cloth for fundraising events and other causes. You can get a cloth fabric to design your own wristband your logo or brand message.
Neoprene
Well, it is a synthetic rubber material that is durable, water-resistant, and stretchy. Neoprene fits best for sports and fitness events.
Leather
Leather wristbands are made from genuine leather and are popular for their durability and stylish appearance. They can be embossed or debossed with a custom design or message.
The material you choose will depend on your specific needs and the event or campaign you organize.
Use Customise Wristbands To Full Potential
Custom wristbands are a popular and effective way to promote your brand and spread awareness about your cause or event. Here is a comprehensive guide to help you design and use custom wristbands to their fullest potential:
Determine your goals
Before you design your own wristbands, you must know what you want to achieve with them. Do you want to raise awareness, promote a product or service, or raise funds for a specific cause? Having a clear goal will help you create a wristband that resonates with your target audience.
Choose your wristband material.
There are several materials for custom wristbands, including silicone, Tyvek, and cloth. Silicone custom wristbands are the most popular option, as they are durable, comfortable, and come in a variety of colors. 
Also Read: Reasons To Buy Personalized Bracelets?
Tyvek wristbands are great for short-term events, as they are waterproof and tear-resistant. At the same time, cloth wristbands are a good option for long-term use, as they are comfortable and easy to wash.
Decide on your wristband color.
Color is important in custom wristbands, as it can help convey your message and attract attention. Consider using colors that match your brand or the cause you're promoting. If you're using wristbands to raise awareness, consider using the color associated with that cause.
Finalize Your Design
Once you have chosen your material and color, it's time to design your wristband. You can add text, logos, images, and other designs to your wristband to help it stand out and get noticed. Make sure that your design is simple, legible, and easily recognizable, as this will help people understand the message you're trying to convey.
Choose The Right Size.
Custom wristbands come in different sizes, so make sure you choose the right size for your target audience. Children, teens, and adults will all need different sizes, so consider your audience when making your choice.
Determine The Right Quantity
You want to order enough wristbands to meet your goals. But not so many that you have a surplus. Consider the size of your target audience, the duration of your event, and your budget when determining the right quantity.
Utilise The Wristbands
Once you have designed and ordered your custom wristbands, it's time to put them to use. Consider using them as giveaways at events, as part of a fundraising campaign, or as a way to promote your brand at trade shows and other events. You can also sell them to help raise funds for a cause or event.
By following these steps, you can create custom wristbands that effectively promote your brand and spread awareness about your cause or event.
Category