By: Robert Bell
September 8, 2016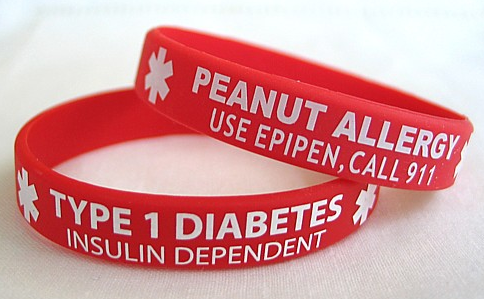 Though the medical alert IDs are there for around 50 years, but still the people are not fully aware of their use and importance. It is only the patients and their family members who have the information about the MedicAlert Ids, but the general public is just clueless about them. So, to remove this information gap, MedicAlert Awareness Month is observed every August. In this awareness month, special focus is given on educating the people and promoting the use of MedicAlert awareness wristbands so that more lives can be saved.
Who needs to wear Medical Alert Bracelets?
The MedicAlert bands are designed to the save the lives of the people who need immediate treatment, but cannot speak about the cause they are suffering from. It can be due to unconsciousness, loss of speech, shock or any other condition that the patient is not able to speak for him. And, it is the case when the attractive and stylish Medical Alert bracelets will speak for him. So, every person who is suffering from a serious and life-threatening health problem should wear these identification bracelets. The various conditions for which you can wear these bracelets are asthma, diabetes, heart diseases, lung diseases, epilepsy, severe allergies, blood thinners, hypertension and more.
Why are Medical IDs important?
There are a number of reasons that make it necessary to wear a medical identification. Here are some of them:
1. A Medical ID will speak for you in the condition you will be unable to speak for yourself.
2. There are many such ailments for whom the symptoms can be easily misdiagnosed and it will be really harmful in the emergency if a wrong condition is diagnosed. In contrast, a brief description of the medical cause (the person is suffering from) imprinted or engraved on the bracelets will ensure the timely and appropriate medical care.
3. Over 95% of the emergency responders look for the medical ID. So, you and your dear ones would not be missed in the case you are wearing it.
Silicone bracelets as MedicAlert ID
Silicone Personalized wristbands are much trendy nowadays and are much famous among the adults. These bands can be effectively used as identification bracelets by engraving the patients' information on them. For an instance, a wristband imprinted or engraved with the person's name, his health condition, and emergency number can help the responder to provide right and immediate treatment. Thus, the much pretty armbands can be used for saving the lives of many.
Customize Medic Alert Wristbands
Moreover, you can get these bands designed in different styles, colors, sizes and customized according to the personal information. The stylish medical rubber bracelets are not only comfortable as compared to metallic bands but are also durable. So, if you are thinking to show your cooperation for the cause then you can bring the trendy Medical Alert bracelets into use.
Category
Recent Posts