By: Robert Bell
November 1, 2016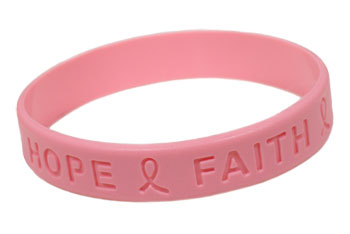 Summary
WristbandBuddy collaborated with ABCF (American Breast Cancer Foundation), a charity providing emotional and financial support to the families of cancer survivors. The newly established charity organization remained successful in raising $260000 with the help of attractive silicone wristbands provided by the WristbandBuddy.
Background
WristbandBuddy is a well-known manufacturer of the rubber bracelets and it has helped many such organizations to provide the required help to the needy by raising funds. Along with raising awareness, these organizations also use wristbands for inciting the people for early diagnosis and thus, protect them from the serious diseases. And we, at WristbandBuddy, have helped the organizations to achieve their goals.
However, charity is not only about donating money, it is about providing monetary or non-monetary support to the needy. WristbandBuddy has helped the ABCF by providing the required support, by ensuring the timely delivery of the breast cancer wristbands. WristbandBuddy delivered wristbands to ABCF at 0% profit rate so that it can raise maximum awareness by using them. Unlike many other wristband providers, we don't offer the small discounts on the price, but we deliver them at manufacturing costs. This makes it easy for the NGOs to buy wristbands in bulk.
Design your Fundraising Wristbands
Results
The charity ABCF has managed to raise over $260000 with the help of breast cancer awareness wristbands. And it is using the funds for helping the survivors by ensuring timely diagnosis and treatment to them.
Whether it is the awareness, promotion or fundraising, WristbandBuddy delivers the customized wristbands to the charity organizations, i.e. the wristbands are designed according to the theme of the particular cause for which the event is organized. The appealing and catchy quotes are used for getting the attention of the maximum people and inciting them to take an action. Actually, these bracelets enhance the effectiveness of the efforts made by the charity organizations by getting them noticed by the maximum people.
No doubt that earning more profits is the main goal of every business, but WristbandBuddy also takes pride in helping the needy through its business. And this is effectively done in the collaboration with the different NGOs and charitable trusts, like ABCF. Such events go on throughout the year and WristbandBuddy never holds itself back from making our contribution.
Category